Our Story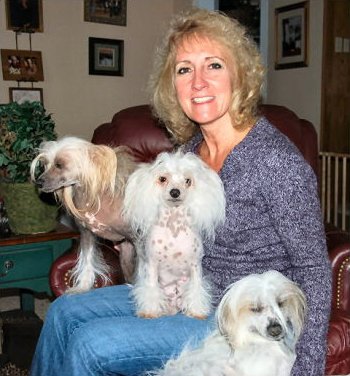 My name is Teresa Moore and I offer AKC Champion Bloodline Chinese Crested puppies.
I am very dedicated to my Chinese Crested dogs and puppies; they are a part of my every day life. My puppies are cared for 24 hours a day, 7 days a week in our home. My breeding stock consists of 4 females and 2 males. All of my dams and my sire are maintained with the upmost respect, love, and care. Each of them holds a special place in my heart and my families, they are our other children.
They have their own room in our home, and have the freedom to run; play and they get plenty of exercise outdoors throughout the day. Their room is picked up and cleaned multiple times during the day. I wish I could get them to pick up their toys every evening before bed time. I'll have to work on this!
My puppies are loved on all during the day and are highly socialized with many children, friends and other cresteds'. Once they are allowed to go outside they will meet the horses and our two little goats. My Chinese Crested pups will be able to go outside after their first booster which is at 6 weeks, if weather allows. I start training them to puppy pads at the age of 3 weeks when they are barely starting to walk, and most of them are just scooting.
You are always welcome to come and visit at any time, purchasing a forever life long puppy is a very big decision, and my goal is for you to NOT make a quick decision. I pride myself on getting my puppies as well adjusted to someday life so they can be a puppy their new forever family will cherish and love for life in their new home. I work diligently on getting them potty trained as soon as possible. Even if they are potty trained here, once they get to their new homes there is still some training to do, they will need to get on your schedule, they need to know what door to go too or where their potty pads are located but my goal is to do my best to make your life much easier with training once they are in your home.
I have been told that my customer service is positively outstanding. That I answer my phone always with a sincere, happy voice, I return calls in a short amount of time and if I need to return a call that I always call back when I say I will. Please know that if you decide on purchase a puppy from me here at Chinsescrestedpupsforsale.com (Ridgelake Chinese Crested) that you will become a part of our family.
You will be proud to own one of my puppies. Please feel free to contact me at any time, I would be happy to answer any questions that you may have. I am always happy to educate new families about Chinese Cresteds
*A $300 Deposit will hold your puppy*
Ridgelake Chinese Crested puppies are all AKC Champion Bloodlines and AKC Registered
Please do not hesitate to contact me at 214-686-7780 or email teresalovescresteds@gmail.com at anytime.